In the footsteps of Orpheus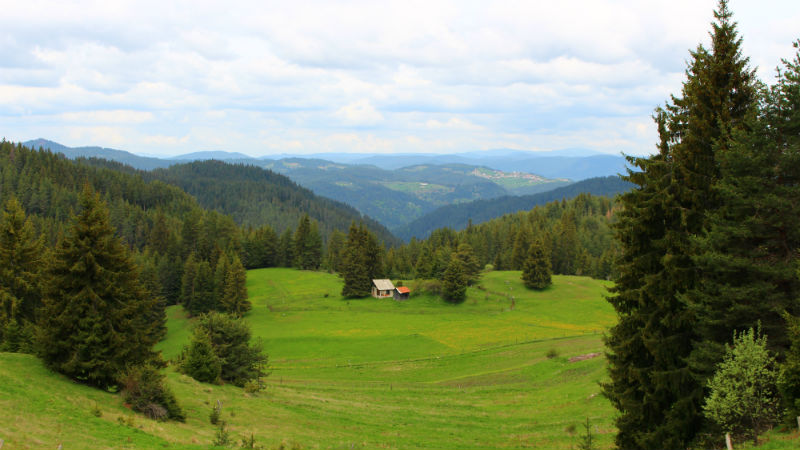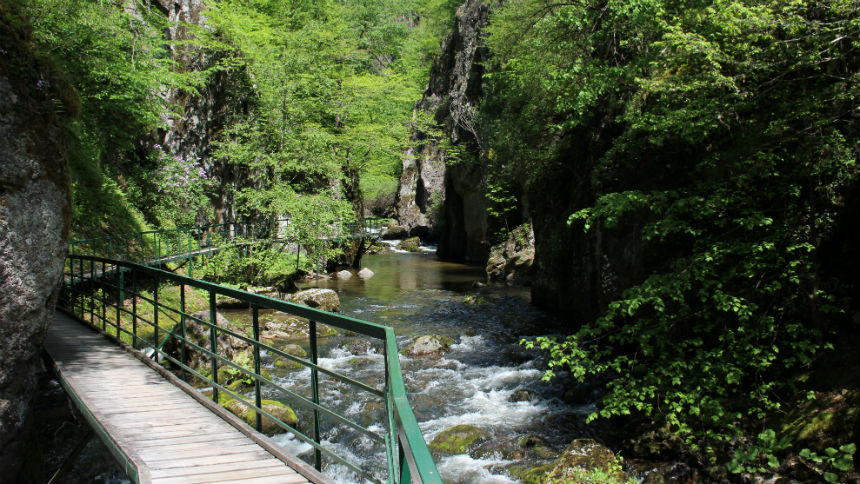 Impressive trail exploring some of the most hidden and authentic parts of Rodopi (Rhodope) Mountains, known as the birth place of the legendary musician Orpheus. Along with the pleasant climate the mountains are the perfect place for walking and exploring the pastoral sceneries with rolling landscapes, open valleys dotted with tiny villages, green meadows with grazing goats and sheep, dense century-old coniferous woods, ancient Roman roads and bridges and a large variety of nature phenomena, namely The Trigrad Gorge with its 250m vertical cliffs, Yagodina Cave (considered one of the most beautiful caves in Bulgaria and also among the longest ones with more than 10km mapped so far), The Devil's Throat Cave (housing one of the highest underground waterfalls in Europe - 42m), The Miraculous Bridges etc. Unlike a typical inn-to-inn walking tour where people are responsible to work out their own way to the starting point and from the last place of the trek, this self-guided holiday is fully inclusive of all transfers and luggage transportations from airport to airport meaning that clients will not have to look for public transportation or private transfers elsewhere.
Rodopi (Rhodope) Mountains are probably the best place in Bulgaria for unguided walking vacations not only due to their natural and cultural merits but also because of the mentality of the local hoteliers, known for their hospitality and acquaintance to foreigners travelling without a guide.

TOUR HIGHLIGHTS
- Rodopi Mountains (also called Rhodope or Rodope; highest peak – Golyam Perelik, 2191m a.s.l.) are the oldest mountains on the Balkan Peninsula.
- Yagodina Cave is among the longest caves in Bulgaria (with more than 10 km mapped so far), considered to be one of the most beautiful in Europe with its outstanding stalactites, stalagmites, columns, ponds and cave pearls in them.
- Bachkovo Monastery is the second largest Bulgarian monastery.
- Sofia is the capital of Bulgaria
- The Miraculous Bridges are result of an earthquake that made a huge cave in the marble bed of the river to collapse; due to their striking appearance the well-polished rock formations nowadays are declared protected area
Itinerary
Day 1: Sofia - Devin
Meeting at Sofia or Plovdiv airport (the latter against a small fee). Transfer to SPA city of Devin. Depending on where you land, the transfer could last 1 hr 30 mins from Plovdiv and around 3 hrs from Sofia. If you arrive early enough you can use the afternoon to visit the picturesque nature trail along Devinska River, or jump in the thermal pools near your accommodation.
Day 2: Devin – Yagodina/Yagodina Cave/Eagle's Eye viewpoint – Trigrad (3-5,30-6,45hrs; 9,50-16-21km)
Today you can choose between two main treks (incl. options to extend them additionally):
Shorter (9,50km; +565m/-355m): A 40min transfer takes you to the entry of the Yagodina Cave: one of Bulgaria's longest caves, which you can opt to view. Once finished with the cave tour, proceed for Trigrad village through a colorful kaleidoscope of landscapes that immerse you in the idyll of rolling crests, forests, and valleys.
Longer (16km (+1070m/-750m) or 21km (+1385m/-1065m): A 30min transfer takes you to the trailhead where a moderate but nice ascent through gardens and woods brings you up at the crest of the mountain. Enjoy the breath-taking views from the famous Eagles' Eye observation platform. Then you descend down to Yagodina village, from where you can make a detour to visit Yagodina Cave or head straight for Trigrad village.
*Those who chose the shorter option, can extend their hike with a visit to the Trigrad Gorge (with its 350m high vertical cliffs) and the The Devil's Throat Cave (housing the highest underground waterfall on the Balkans, 42m high), both near Trigrad. Visiting these sights is a must, and can be done also in the afternoon of Day 3 or Day 4 by those, who opted for the longer treks on Day 2.
Day 3: Trigrad – Zhrebevo – Trigrad (5,30hrs; 18,50km; +700m/-700m)
Magnetic sights follow each other on a circular hiking tour around Trigrad, with the authentic village of Zhrebevo at its distant end. Legend has it, the village was named after a stallion which shielded it from trouble and strife. Along the route, you observe the entry to the Trigrad Gorge and enjoy the wonderful panorama to surrounding parts.
Day 4: Trigrad – Kesten/Vodni Pad – Trigrad (5,30hrs; 17km; +670m/-760m)
Today, starting with a 10min transfer to the trailhead, you enjoy a particularly pleasant walking trek to the bordering with Greece villages of Kesten and Vodni Pad (until recently within a closely guarded strip proscribed even for those living down the road; you will see remains of the barbed wire border fences, meant to prevent people from escaping to Greece in the years during the 45yrs long communist rule in Bulgaria after WWII). A circular trail takes you up panoramic crests, through pine and beech forests dotted with green meadows and smallholdings, sheltered valleys, and traditional stone houses. The valley of the Trigradska River takes you back to Trigrad.
Day 5: Trigrad - Beden - Lyaskovo (6-6,30hrs; 21km; +825m/-860m)
An early morning transfer will take you to the village of Beden (45 mins driving time) and while your luggage will continue the travel journey, you have to face another divine part of the beautiful Rhodope Mountain. The trek is full of impressive panoramic views, shady deciduous forest and reveals what's left from the traditional way of life of local people.
Your final destination is the village of Lyaskovo - one of the most distinctive local communities. Your hosts will make you feel like home so much that you won't want to leave. Enjoy the well-deserved rest with homemade dinner whose ingredients are freshly picked off from their garden.
* There is an option to extend the tour with extra night in Lyaskovo village, incl. a circular trek along the nearby mountain ridges.
Day 6: Lyaskovo - Wonderful Bridges - Kossovo (5,30hrs; 17,50km; +1160m/-780m)
Say goodbye to your hosts and leave your luggage ready to be collected later the day. With a light backpack, you continue your independent hiking exploration of this less-known area of the mountain. Most of the time you will spend under the shades of an ancient forest, where numerous paths and trails are crossing each other. Don't get too overwhelmed by the tranquility of the atmosphere as you risk taking the wrong turn. In case you are walking in the right direction at the end of the hike, you will be impressed by the natural rock phenomenon Chudnite Mosotve (Wonderful Bridges). A jaw-dropping natural site that will make you feel so small when standing under the sheer walls. Here you will meet your driver who will take you for an overnight in the fairytale-like village of Kossovo. You will spend the night in a restored traditional stone house. The houses in the village are like embroidered on three hills and the scenery is simply fascinating.
Day 7: Kossovo - Bachkovo Monastery - Plovdiv - Sofia
The final day of your independent walking trip will be more culturally oriented. It's time to learn more about the region, as well as for the traditions, religion, and history of Bulgaria. The first stop will be Bachkovo Monastery - the second-largest complex in the country. In the main temple is kept a 14th-century icon of Virgin Mary for which is believed that is miraculous. Your journey will proceed towards Plovdiv, the oldest inhabited city in Europe. Here could be found remains from different epochs among which Roman, Ottoman, and the Revival Period of Bulgaria. Depending on the month you take the trip, you may be able to join the Free Plovdiv tour or continue the exploration as self-guided. You will be given detailed instructions on where to go and what to visit. Just make sure that you will be on time for the appointment with your driver in the afternoon. When you finally reach Sofia, you could consider joining the Free tour here (starting at 18:00) or stroll around the downtown at your own pace.
*N.B.: Between October & April the free tour in Plovdiv runs at 14:00. If you booked a tour during this period of time you will have to explore the Old Town using our own navigation materials, and not as a part of the free guided walking tour.
Day 8: Sofia
Transfer to Sofia Airport.

DETAILED ROAD BOOK AND MAP WILL BE PROVIDED UPON ARRIVAL
Dates, Prices & Remarks
Accommodation:
Days 1 and 7 - 3 star hotels with en-suite facilities. Rest days - small family-run pensions and guesthouses with en-suite rooms. Meal plan is based everywhere on half board (breakfast and dinner included) except for Day 7, when no dinner is provided. Luggage is taken care of throughout the tour.

Price for solo travellers (incl. also single room supplement): 790 €

Price: 525 € per person in a double/twin room (limited time offer)

Single room supplement: 90 €

The price includes: a trip, fully inclusive of all ground transfers from airport to airport (pick up/drop off at Sofia Airport); detailed road book in English and map; luggage transportation; accommodation and boarding as mentioned above; 24/7 emergency hotline; VAT and all local taxes.

The price does not include: tips, entrance fees for caves and museums, alcohol drinks and other personal expenses.