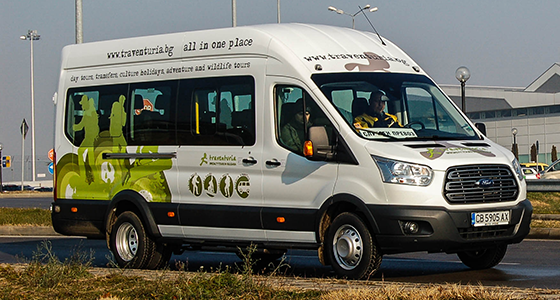 TRAVENTURIA LTD provides transfers with a variety of vehicles (cars/vans/buses) between many destinations in Bulgaria. Our door-to-door transportation service and professional drivers guarantee a hassle-free experience. Bookings can be made online easily and quickly. We work hard to provide a reliable service to our clients, that's pleasant and comfortable.
If you would like to visit the Black Sea coast or SPA resorts during your stay in Bulgaria, we've got you covered! With us, you can book transportation to many places on the seaside, to SPA resorts or to other big cities in the country, which are worth visiting

Price: Depends on the number of travelers on one invoice and the chosen destination. All prices are quoted in the drop-down menu and are valid for all travelers.
Included in the price: Professional driver, transfer with a modern vehicle, all transport taxes.
Not included in the price: Meals and drinks, other personal expenses.

A lot of businesses operate transfers illegally and without the necessary insurances and licenses. This poses a big risk to clients holiday, health and life. Before booking a transfer make sure the travel company has all necessary documents to perform them, incl. a license for transportation services. The license of Traventuria Ltd. you can find HERE.